Malcolm Jacotine – Superyacht2030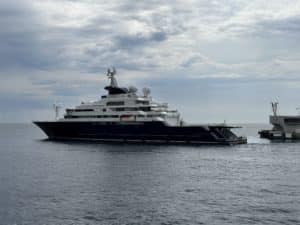 Let's Talk About HVO
There has been a lot of focus on new technologies and green fuels such as Hydrogen and Methanol as a means of decarbonising the superyacht industry. While these may provide the solution for new-builds, what about the large fleet of recent builds and legacy vessels, how can they reduce their carbon emissions?
Beyond the very important operational changes and system upgrades, one such solution is the so-called 2nd generation biofuels such as Hydrotreated Vegetable Oil (HVO).
Why HVO
By way of an example, if the iconic M/Y Octopus were to fill up using HVO they could avoid adding approx. 2,500 tCO2 to the atmosphere. This is the equivalent to the annual emissions of over 400 EU citizens (Worldbank) or 1600 cars (EU av. 130 gCo2/km, 11300 km per annum).
What is HVO
The name "Hydrotreated Vegetable Oil" stems from a time before 2010 when only vegetable oils were used as feedstock. Today, it is produced from waste and fats from the food industry e.g. used cooking oil (UCO), as well as non-food grade vegetable oils and fats.
The EU Renewable Energy Directive (RED II) Annex IX Part A and B lists feedstocks from biomass waste and residues that can be used in the production of biofuels for transport. Annex V lists, typical and default values, for Greenhouse Gas (GHG) emissions savings for various fuels, for "hydrotreated waste vegetable oil" (HVO) this is 87% and 84% respectively.
HVO conforms to the fuel standards EN 15940 (EU) and ASTM D975 (USA).
It is chemically similar to fossil diesel and considered a 'drop-in' fuel, meaning no changes are required to the supply chain, storage or engine modifications.
How is it Made
The feedstock first undergoes 'hydro-treatment' at high temperature and pressure, where Hydrogen is added to remove the oxygen, followed by 'hydro-processing' which determines the end product e.g. sustainable aviation fuel (SAF) or renewable diesel.
As well as feedstock, the production process requires energy and Hydrogen. The source of these inputs (green or fossil) wil affect the overall CO2 reduction compared to fossil diesel.
What About The CO2
Burning fossil fuels releases non-biogenic CO2 that has been locked in the ground for millions of years and, according to the IPCC, has a turnover that exceeds 10,000 years.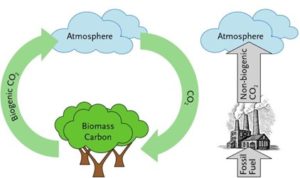 © IEA Bioenergy 2023
The burning of biomass releases biogenic CO2. This is a term for CO2 that has already been absorbed by plants and animals during their growing cycle and has a short turnover.
In simple terms, excluding the production emissions, HVO recirculates the CO2 as part of the biogenic cycle.
Well-To-Wake
Historically, maritime emissions have been measured using Tank-to-Wake (T-t-W) i.e. exhaust emissions. Unfortunately, this did not consider the upstream emissions, whether positive, such as biogenic CO2 or carbon capture, or negative, such as from fugitive methane, energy and production.
New regulations from the EU and, possibly the International Maritime Organisation (IMO) in their next GHG Strategy due this year, will measure fuels on their full Lifecyle known as Well-to-Wake (W-t-W) – this is a key metric for assessing all alternative fuels.
Using W-t-W HVO can result in a reduction in the carbon footprint by up to 95% (Neste MY Renewable Diesel HVO100) compared to fossil diesel.
What's in a Label
EN 15940 is a European fuel standard that covers all "paraffinic synthetic diesel fuel" and XTL is the generic label used for this fuel.
Unfortunately, XTL does not differentiate the production process or feedstock and includes fuel made from fossil fuel sources including Coal to Liquid (CTL) and Gas to Liquid (GTL) as well as Biomass to Liquid (BTL) which can include crops, as well as HVO from waste oils and fats.
Certification
Along with the opaqueness of XTL, there are also growing concerns about virgin oils such as Palm Oil and Soy being used.
High demand for UCO means large amounts are coming from Asia where traceability and verification is more challenging. And, in a perverse twist of RED II, UCO can be more valuable than virgin oils. The result is that oils and fats that may negatively impact food supply and land use have been found entering the supply chain.
The upshot to this is that care is required when purchasing HVO and, HVO labelled as XTL, to ensure the best CO2 reductions, and least food/land impact – traceability and certification is key.
Along with the fuel quality certificate, HVO should come with National or independent voluntary certification that includes such things as feedstock, CO2 content, and compliance with RED II Annex IX Part A or B.
One such organisation is the International Sustainability and Carbon Certification (ISCC) where you can search a public database of certificates where, for example, you can find Neste fuels.
Engine Compatibility
Most engine manufacturers will have specific fuel standards for their engines, including fossil fuels and biofuels.
Caterpillar publish a document called 'Caterpillar Machine Fluids'. In their 2019 publication they state: if a renewable or alternative fuel fulfils the performance requirement in the CAT Fuel Specification, the latest versions of ASTM 975, EN 950, or EN15940 which includes HVO, it can be used as a direct replacement of fossil diesel in all CAT diesel engines.
Rolls Royce MTU have been working with HVO since 2015 and, in the marine sector, have undertaken over 9000 hours of testing. In 2022 they approved (new and old) the use of HVO in their power generation 4000 and 1600 series engines. They have also announced they will approve their 4000 and 2000 series marine engines (used on superyachts) – in 2023 https://www.mtu-solutions.com/eu/en/pressreleases/2022/rolls-royce-releases-mtu-marine-engines-in-2023-for-sustainable-.html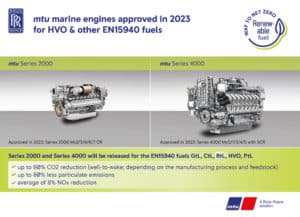 © Rolls Royce MTU
There is an excellent video from Rolls Royce MTU Power Generation and Neste that is well worth watching – https://www.youtube.com/watch?v=sPAnVrJgfDM
As approval depends on manufacturer, engine series and age, as a precaution before using HVO, it is recommended to contact your engine manufacturer.
Class and Flag
Switching to HVO, provided it meets the fuel standard and is approved by the engine manufacturer, is akin to switching between different types of fossil diesel that would not normally require Flag or Class involvement.
In general, you should not have to do anything providing the HVO conforms to the relevant fuel standards, is approved by the engine manufacturer for use in your engines and complies with Unified Interpretations to MARPOL Annex VI – 13 Application of Regulation 18.3 for Biofuels.
The Unified Interpretation means if the engine can operate on biofuels such as HVO without changes to its NOx critical components, or changes to the approved Technical File, no further action should be necessary.
However, it's advisable to contact Class and Flag before switching to HVO for the first time.
Challenges
Whilst environmentally it is a clearly a better solution than fossil diesel, apart from feedstock transparency, there remains a couple of challenges:
– Availability
– Price
Availability
Whilst the production process is mature and there are number of companies, including traditional oil companies, producing HVO, production is relatively low compared to fossil diesel. However, as demand for low carbon fuels continues to grow, production is scaling up as follows:
– Europe 4.4 million tons in 2020, to 8.2 million tons by 2025
– North America 2.8 million tons in 2020, to 24.5 million tons by 2025
– Asia 2.2 million tons 2020 to 4.0 million tons by 2025
Neste, the World's largest producer of HVO, expects to double its production in the coming years. One example is the expansion of their Rotterdam refinery adding 1.3 million tons per year. Worldwide they expect to be producing 6.8 million tons of renewable products by 2026.
Today HVO may not always be easily available, especially in more remote locations, things. However, in Europe and North America, with a little planning it can be a practical alternative. In addition, HVO and fossil diesel can be readily mixed and used interchangeably – you could use HVO in the Mediterranean and switch to fossil diesel in the Caribbean without any problems. Meanwhile, availability continues to improve.
Price
Due to feedstock and production process, HVO is more expensive than fossil diesel. Unfortunately, due to low volumes of HVO it is difficult to compare prices. However, a traded biofuel like B100 (can be produced using similar feedstock but it is not a drop-in/EN 15940 fuel) offers a good proxy for price. The DNV Veracity Alternative Fuels Insight, indicates B100 has a premium of around 80% compared to fossil diesel – HVO should not be too dissimilar. This of course fluctuates as do all energy prices!
Of course, the final price of the fuel sold to the consumer/yacht depends on several factors including provenance, feedstock, and any subsidies/incentives for low carbon fuels, duty, and VAT.
Within the industry there has been a range of prices between €0.15 and €0.63 per litre more expensive than fossil diesel. This does not seem too high compared to the benefits but as mentioned, caution is required to ensure it is 100% HVO from waste oils and fats.
The higher cost of HVO and other alternative fuels, is a key reason why energy efficiency, both operationally and technically, is important to reduce the energy consumed and running costs.
Although production increase, forecasts suggest the price will remain relatively high due to limited feedstock and competing demand from other sectors like road transport and aviation. However, the differential with fossil diesel will probably close due to other mechanisms such as reduced duty on low carbon fuels, or carbon taxes – see EU ETS and Fuel EU Maritime.

© Neste NEXTBTL diesel vs Fossil diesel
Summary of HVO Benefits
Apart from the important reduction in CO2 of up to 95%, there are reductions of other air pollutants that are known to be detrimental to the environment and health:
– Very low Sulphur.
– Reduced NOx – though exhaust gas after treatment may still be required to reach IMO Tier III.
– Low smoke, soot, and particulates – up to 80% according to MTU tests.
Low smoke and soot also have positive benefits for guests and crew e.g. less noxious and obvious exhaust, and less soot residue to clean up.
According to MTU tests:
– Load acceptance stays the unchanged in comparison to fossil fuels.
– Engine power output stays unchanged in comparison to fossil fuels.
– Lower density leads to an increased tank volume of the fuel by approx. 3% for the same runtime.
– Fuel filter seals may be affected during switch from fossil fuel to HVO – can be resolved by changing this low cost (<€100 per filter) consumable part.
– Storage life of the fuel is far better.
– Hydrophobic characteristics leads to higher amount of water separated in water separator.
– Note: Neste MY Renewable Diesel (HVO100) contains no oxygen, leading to longer storage time and less water absorption.
Conclusion
Using vegetable oils as fuel in diesel engines is not new. Rudolf Diesel ran his early engines on peanut oil. He also made the following rather prescient statement.
"the use of vegetable oils for engine fuels may seem insignificant today, but such oils may become, in the course of time, as important as fossil and the coal-tar products of the present time." – Rudolf Diesel 1912
Though price and availability will remain challenges in the short term, HVO from waste oils and fats, offers the only practical solution for yachts to reduce their CO2 emissions and other air pollutants, improve the onboard experience, and demonstrate a more responsible approach to yachting.